What To Wear To A Photoshoot
To have a good picture, you must choose the right outfit for the occasion. It's easy to be distracted by the attire in a photograph if it's too noticeable or overpowering. It is the ultimate objective to dress in a way that does not draw attention to oneself.
It might mean the difference between a well-regarded portrait and a mediocre one. If you don't adhere to these simple requirements, you may be asked to change your apparel before taking your photographs. You should follow these guidelines in order to have beautiful pictures.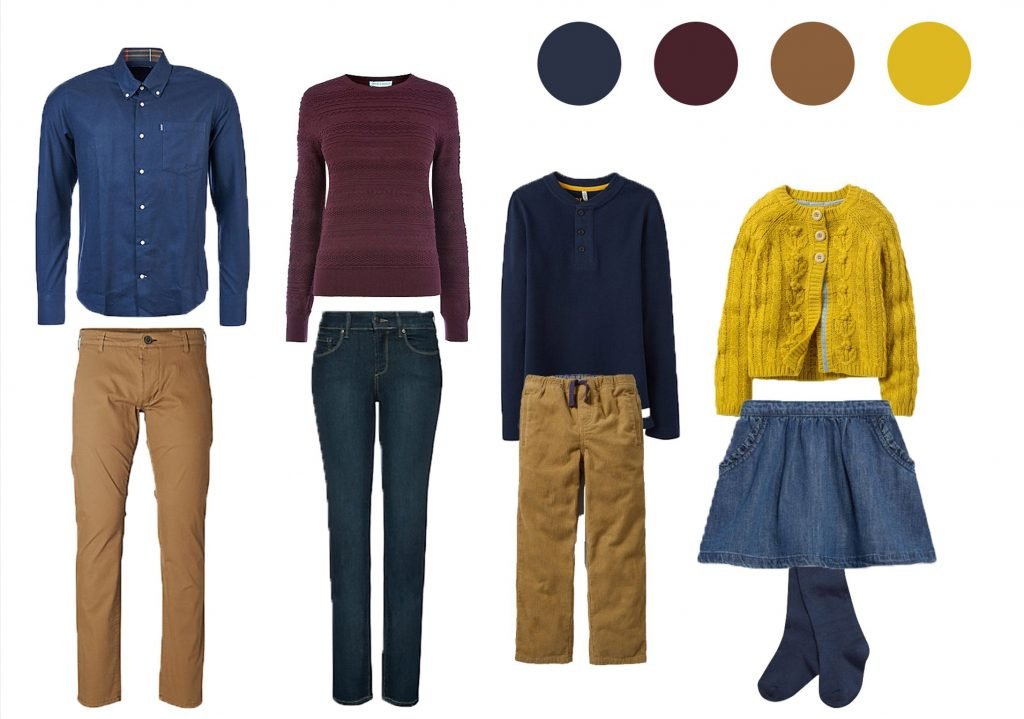 Dark cloths. The darker the clothes, the easier it is to make the subjects disappear into the backdrop, allowing the faces to take center stage. Dark hues undoubtedly slenderize the figure.
Bright colours. Bright colours draw the eye away from the face and may reflect light, making them more distracting. Avoid bright colours like red, pink, and green. Keep to pastels, but avoid pink tones when selecting lighter hues.
When paired with denim or khaki trousers, colors like light yellow and pastel blue look great. For example, if you have a sunset photography session scheduled, these colours are ideal.
Light colours. You should avoid wearing white if you are concerned about looking fat. White is a colour that lends itself well to a clean, fresh aesthetic. When wearing a dark jacket, it's best to wear a white shirt or blouse underneath.
Prints and patterns: Avoid all types of patterns and prints. There will always be some level of visual intrusion, no matter how minor the photo or design may seem to be. It is especially true for digital pictures, in which even the tiniest patterns in clothes may distort the image in entirely unnatural ways.
Avoid short sleevess and pants. Clothing with long sleeves is essential! Long pants, rather than shorts, are a must for informal photos. There will be more flesh in the image of your arms and legs than on your face when they are exposed to the camera. This is a significant detriment.
Don't over accessorise! An overbearing or obtrusive accessory might detract from the overall look. The ideal approach is to keep things as simple as possible.
Glasses. In some instances, eyeglasses may be necessary. Naturally, non-reflective lenses come in handy. Even better, if you're lucky, you may be able to find a similar pair of frames but no lenses. If your glasses tend to distort the shape of your face, this is very useful.
Make Up and hair style: Simple, off-the-face hairstyles are the best way to go. Distracting shadows are cast by hair that falls to the sides of the face. The eyes are the most vital area of the face, and if the bangs are too low, they will block the light from reaching them.
Consider hiring a professional makeup artist and hairstylist for your picture shoot. It will have a profound effect on your appearance and mental well-being. This is perfectly acceptable as long as you have a go-to hair and makeup artist.
Make sure you have enough time to have your hair and makeup done before your planned appointment so that you may arrive feeling and looking your best. A stylist should be booked well in advance of your photo session. Your nails need to be trimmed. Toenail polish remains intact.
Proper Necklines: For everyone, the best neckline is close to the neck. It is common for a wide-open neckline to make the neck seem thicker in a shot.
When it comes to the most flattering necklines, turtlenecks and v-necks are the most popular. It has a slimming effect on the body and beautifully frames the face.
Group & family photo sessions. Keep your outfits basic and consistent. The right one must be chosen to provide a seamless transition between the two. Avoid using patterns or trademarks that are too huge or distracting. In general, solid colours are the most effective.
Decide whether you want your outfit to be warm- or cool-toned. After then, be sure to adhere to the guidelines listed above. Keeping a group in a similar colour scheme helps draw the viewer's eye to the many people shown in the painting. More distracting is a set of colours with different hues.
A lovely and relaxed style may be achieved with white shirts paired with khakis or jeans, but if someone in your family is fair-skinned, white might make their complexion seem even lighter. Jeans are an excellent option for casual photos since they don't reveal any creases or panty lines, making them ideal for those who want a more relaxed look. A more informal and lively appearance may be achieved by wearing a lighter shirt on top. Also, pastels tend to be popular since they tend to highlight the colour of the wearer's skin.
With dark shirts over the top, the photographs have a more solemn and contemplative vibe. Everyone should wear attire that matches their surroundings. Make sure your children's clothes fit nicely and don't have a lot of "growing space." Jeans or khakis with a white or black shirt are usually good for a family photo.
Kids: When it comes to photographing someone's personality, it's best to stick to neutrals like khakis, navy blue pants, and white shirts. Little girls look their best in gorgeous attire.
Be sure to include a variety of headgear and outerwear into your child's ensemble to let them express their individuality and bring out their goofy side. Bring anything else you wish to use as a prop or comfort item.
Tip: Place the whole wardrobe on a bed. Everything from socks and stockings to shoes should be covered! Make sure you inspect the collection thoroughly.
You may expect the same thing to happen in an image if your attention is drawn to a particular object. That's something that has to be fixed. It's essential that your clothing doesn't squeeze you in the wrong places.
Conclusion: Your family's pictures will be treasured for decades. If you don't intend on having fresh photographs taken every year, you should steer clear of fad-style apparel. When you see your photos, you'll realize how much work you put into them. Your hard work will be rewarded.