A Guide to Passport Photo
When you are putting together your photographs for a passport, you have to make sure that your photographs meet the needs of that country. If you don't, you're going to have to wait longer and pay more. Your application will not be complete without a set of passport photographs. Your visa will be denied if you do not provide relevant photographs. To ensure that you get it correctly the first time, please read the following instructions, and we'll make a mug shot that meets passport specifications the first time.
Passport photograph style
Some important key points about passport photo style give as
Looking straight and forward into the camera lens
A photograph should have a head height (the distance from the bottom of their chin to the top of their head) somewhere between 29 and 34 mm.
A photograph should have a neutral expression, neutral mean closed mouth, no raised eyebrows and no smiling.
Eyes are open and visible, without any glasses or hairs across the eyes. If glasses are necessary, then avoid any reflection.
Showing their full head if possible, unless for religious or medical reasons.
In the case of children or babies, no other person in the background is holding this child.
There is no shadow on the picture
Not showing any red-eye.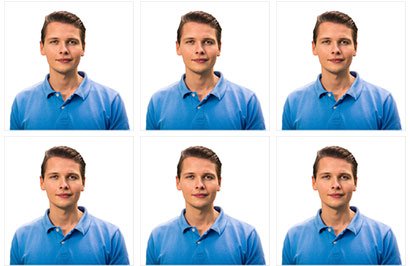 Passport photograph size
The passport photograph has dimensions of 45mm hight and 35mm width standard.
Don't cut down the larger size photo in the required dimensions.
Passport photograph Quality
The background should be plain light grey or primary creen colour
Paper quality on which photograph printed should have high quality.
The camera could be focused, clear and sharp
Photographs should be latest, or at least one month older.
Should be printed on a white photographic paper
Photo should be cleaned, not marked, creased or torn on it
There is no writing on its front or back unless verification purposes are needed.
Can you take a passport photo with a Phone?
Yes, your personal iPhone or Android phone will be used as a camera to take down your passport photo. Still, you should follow all the guidelines during capturing an image, including good lightning, white background, and a good friend for assistance.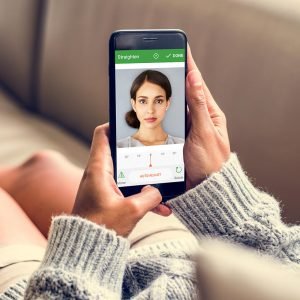 Are you allowed makeup for the Passport photograph?
Suppose you are still unsure whether or not you are authorised to wear makeup before taking a photograph for your passport. In that case, we are here to provide you with a definitive answer: Yes, you are permitted to wear makeup in a passport photo if you so choose, and it is not prohibited by the official criteria of a passport photo.
Is it possible to have your shoulders exposed?
Yes. As far as the passport authorities are concerned, they have been informed that this is entirely up to the personal discretion of each particular applicant. Consequently, it cannot be used as a justification for rejecting your passport picture.
Is it mandatory to put on a shirt for your passport photo?
According to some Government standards, most of what you wear for your passport picture should be based on your personal preferences. However, the essential requirement is that your apparel leave your face exposed; for example, they would not permit you to wear a shirt and tie pulled up over your mouth.
Does the colour of hair make a difference on a passport?
Neither the colour of your hair in your passport picture nor the colour of your hair currently is essential considerations to make. When it comes to hair colour changes, immigration officers are well-versed on the subject. You've been given a pair of spectacles.
Is it permissible to wear jewellery in passport photographs?
In most cases, you will be pleased to find that you are permitted to wear jewellery in your passport photograph. Earrings and necklaces, and also facial piercings, are acceptable fashion accessories. However, jewellery may also factor in the rejected shot when worn excessively in nature.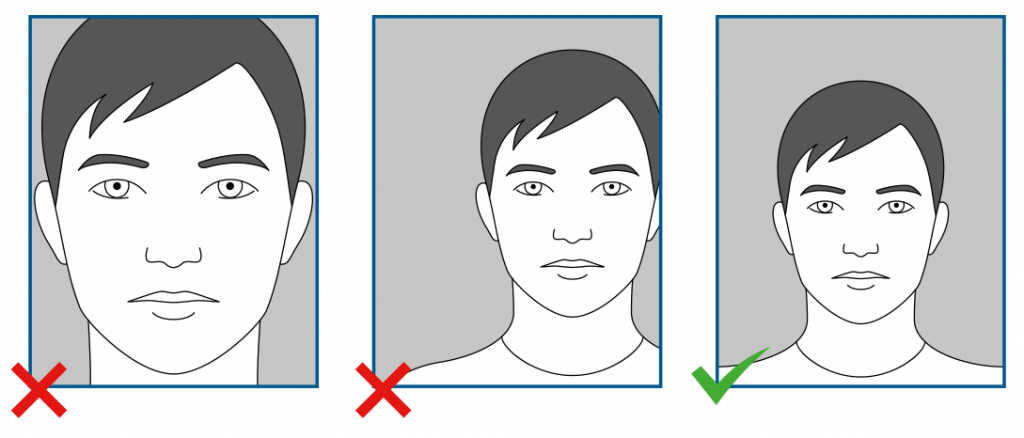 Can you put eyeliner on in a passport picture?
Don't dress in anything currently fashionable, which means no bright lips, no dramatic feathered eyeliner, and no extravagant top knot. When it comes to makeup, you can't go wrong with natural bronzer and neutral blush, a light matte brown eyeshadow, daily mascara, lip balm that says "my lips but better."
How would I feel if I looked different from my passport picture?
If your appearance has changed enough to need a new passport photo, you will need to get one. When this is done, the latest data can be added to the biometric chip on the paper.